Birth, babies and breastfeeding in a time of COVID
Online 14 May 2022 - 30 September 2022
---
During the Covid-19 pandemic, maternity services underwent a rapid transformation in an attempt to deal with transmission of the virus and pressure on services. Lockdowns and other restrictions contributed to many changes in policies and management in the healthcare system. This conference will explore research looking at the impact of the pandemic on birth, breastfeeding, examining the resultant changes and how this was experienced by infants, families and those who provide care for them.
Streaming until September 30th - Register and begin your learning right away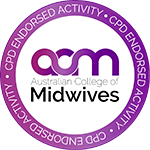 Accreditation
ACM Endorsed program: 5.5 CPDs.
CERPs Approval CL2021-1AU: Total hours 3.5
Total CERPS allocated: 2.5L CERPs 1R CERPs